Lionel Reed
Lionel of London
Lionel Reed, a longstanding and remarkable member of Edward Carpenter Community, died in April 2016, aged 87. Later that summer, some 100 members of ECC and the London Gay Men's Chorus came together at the Westminster Friends' Meeting House, to celebrate his life through singing, circle dance, and the sharing of memories, some of which are included here.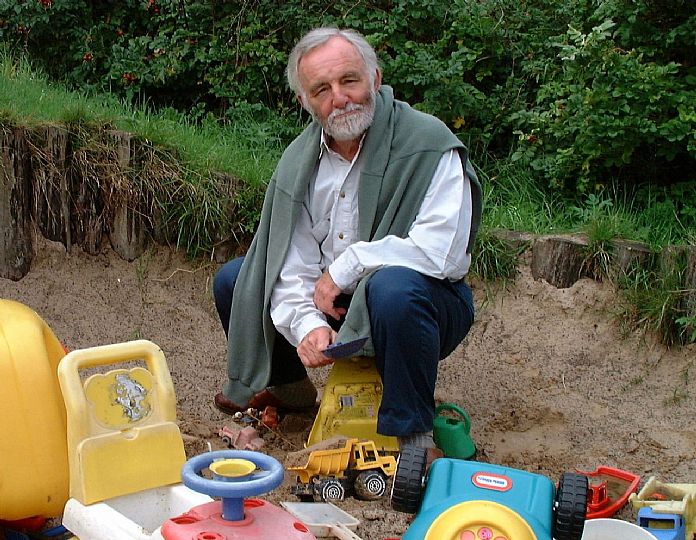 I first met Lionel in the 1990s through the Edward Carpenter Community, and was immediately impressed by his straightforward manner and insightful judgment of people and situations, which overlaid a deeply caring and compassionate nature. Clearly a man who did not suffer fools gladly, and who held his beliefs very forcefully, he also devoted much of his energy and his life to helping and supporting others.
As a man whom I have always considered to be one of the elders of the ECC, (born, I believe, in the year Edward Carpenter died) he earnt my lasting respect for his commitment to the organisation; in particular his ability to guide groups through difficult processes (as at Autumn Gatherings), and for the safe space he created in a number of workshops which were personally challenging to me. He was a person whom I felt I could trust one hundred percent.
More recently I have enjoyed his company in music making, where he could adapt his strong voice to give a good impression of Paul Robeson; a more light hearted rendering of a music hall number, complete with cockney accent, (Lionel of London, as he often introduced himself); or an impassioned unaccompanied performance of one of the socialist workers songs; each of these giving an insight into different aspects of his character and his life's experiences.
He also regularly attended circle dance weekends; at the last one he attended, the car that had brought him drove over his foot and I had strained my back, so he and I had to commiserate with each other, his bad foot and my bad back, and less dancing was done than usual! At the recent circle dance event in May, we remembered him as we danced one of his favourites, a stately dance from Romania; this always seemed to me also to encapsulate something of his personality.
I recall my last visit to him in his home just before last Christmas, at the end of which he urged me, as usual, to 'Go Well and Be Well'. So I return the greeting: Lionel, thank you for being part of my life, and now, you too 'Go Well and Be Well.'
Jon Homer
I met Lionel for the first time at High Close Youth Hostel in 2006. For the opening go-round, the organisers had asked us to give our names, where we were from, and to say something that we liked about ourselves. When it came to Lionel, he said in his booming baritone voice with perfect diction and projection: "I'm Lionel of London; and I like my irascibility." I thought to myself, "Hmmm, that's someone I must get to know!"
Andy Nicastro
A couple of months before he died, and when he was too weak to write for himself, Lionel dictated this poem to Andy:
Friendship
Friendship has a connection.
When connection disappears, where's friendship?
True friendship lies in contact.
Where there's no contact, where's friendship?
Friendship lies in honesty.
Where there is no honesty, where's friendship and self-knowledge?
Lionel of London 14 Feb 2016